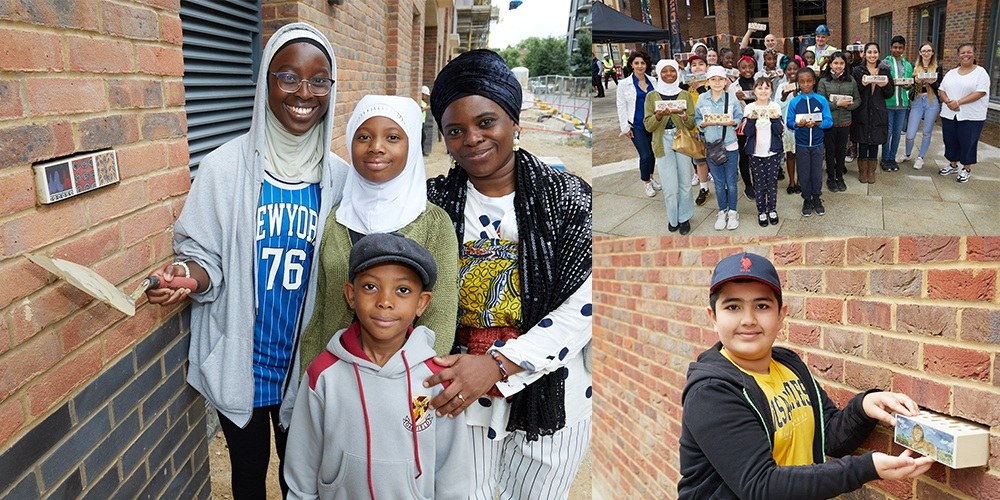 ---
Young people living in the Aylesbury estate community have attended a brick-laying ceremony on the First Development Site on Albany Road, part of the Aylesbury regeneration.
The ceremony was the culmination of many months of hard work by the children who were part of a young people's brick design project.
During the project, the young Aylesbury residents created designs which have now become a permanent feature on the exterior brickwork of the new homes on Contract A of the First Development Site. The designs were inspired by their local area and demonstrate the creativity and talents of the Aylesbury children and young people.
On the day of the event, local ward councillors and families of the young artists watched on as they installed their bricks into the buildings, with help from Hill's (building contractors on Contract A of the First Development Site) bricklayers. All the specially designed bricks are at low levels so they can be easily viewed by members of the public.
One participant said: "I really enjoyed being part of the project. My design was about the history of Aylesbury - there used to be a zoo nearby so I drew a lion."
The project was a collaboration between Notting Hill Genesis, Hill and Hill's consultant ceramicist, Maria Gasparian.
Dorrett Wilson, Regeneration Development Manager at Notting Hill Genesis, said "We saw this project as a great opportunity to create a sense of ownership and excitement about the new homes being built for residents of the Aylesbury community. The young people have learnt a lot about the history of the local area, the process of brick manufacturing and construction and we are immensely proud of the brick designs each young person has created.
"We hope that this project might inspire some to go onto successful careers in the construction sector. As a result of the project, one participant already has a work placement with one of our architects."
Photos from the brick-laying ceremony are available to view here.