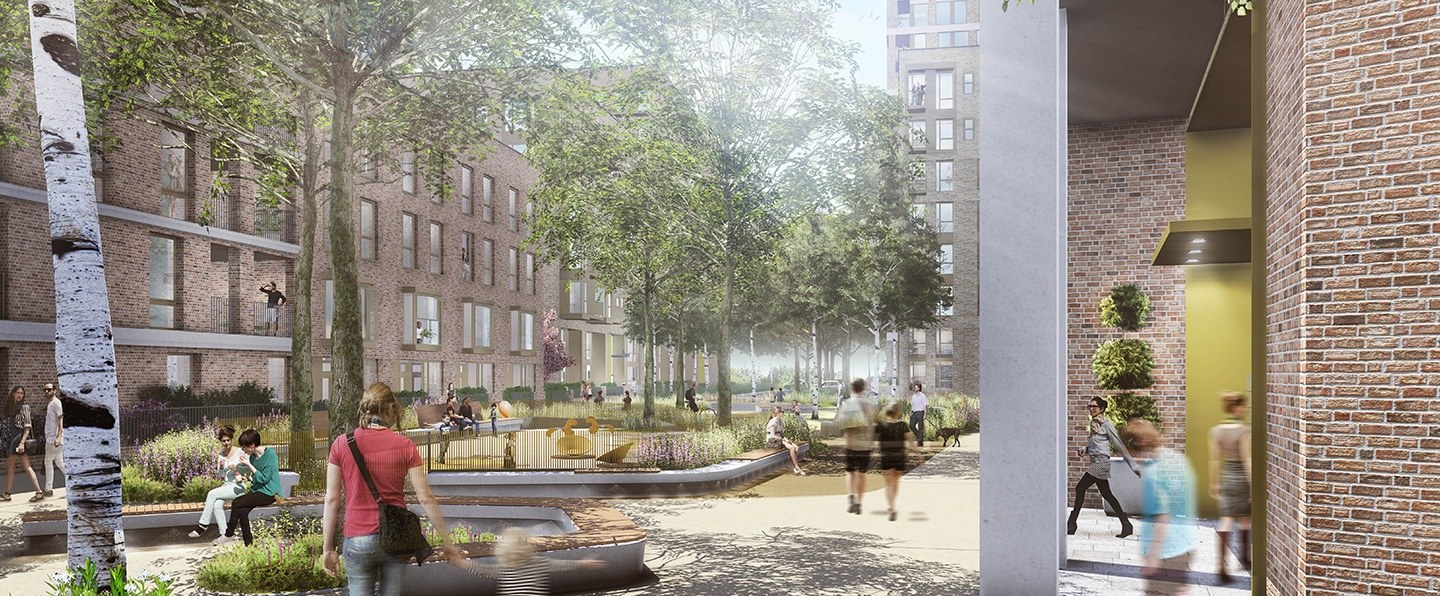 ---
The regeneration of the Aylesbury estate has moved another step closer after Notting Hill Housing (NHH) submitted its planning proposals to Southwark Council.
If given the green light, the proposals will create about 3,500 new homes on the 60 acre site, half of which will be for affordable housing, with the rest for private sale or private market rent.
NHH believes the Aylesbury is an area of extraordinary potential and this application reflects that – turning an ambitious vision to repair this piece of London and knit it seamlessly back into the city, into reality.
The designs have been developed with the people who know it best – the residents who live there, the Creation Trust and Southwark Council. The aim has been to create a place that everyone, from every background, will choose as their home, and where families can bring up children on safe streets, close to good schools and with excellent job opportunities – all in the heart of the capital.
Two planning applications have been submitted following months of consultation with residents.
A detailed submission for the first development site, in the south west of the estate near Burgess Park, will see more than 800 homes created, from apartments with views of the park to maisonettes and large four or five bedroom houses. There will also be extra care housing and specialist homes for people with learning disabilities. The new homes are designed to be light, bright, spacious and easy to maintain.
Three quarters of the affordable housing will be available at target rent, while the rest will be set aside for shared ownership or equity.
When residents and families leave their homes, they will be able to relax in and enjoy a host of landscaped open spaces including public squares and pocket parks, as well as communal courtyards, roof spaces and playgrounds.
There will also be a community facility built to benefit those living in and around the area.
The second application is an outline proposal for the overall masterplan of the development, which is split into four phases. It has been designed to develop a series of neighbourhoods based around parks and community facilities, with green space being visible from every home.
After the first development site, the next phase will include a neighbourhood hub In Thurlow Street featuring community provision, an early years facility, a medical centre and retail space.
Once the submissions have been validated by Southwark Council, they will be available to view online.
NHH chief executive Kate Davies said: "Submitting these exciting plans is the first step towards realising the extraordinary potential of the Aylesbury estate and improving the area for thousands of people, whether current or future residents.
"We are confident that these submissions promise a bright future for the Aylesbury and its wider surroundings, while our dedicated team will continue consulting with residents to ensure their voices are heard on forthcoming proposals."
Cllr Mark Williams, cabinet member for regeneration, planning and transport, at Southwark Council, said: "The regeneration of the Aylesbury Estate will provide high quality and genuinely affordable new homes for local residents. It will also bring wide-reaching benefits. These include new jobs, public spaces, walking and cycling routes that will benefit Aylesbury residents now and for many years to come. We're delighted to see this application come forward as a significant step towards this goal."
NHH was chosen by Southwark Council as development partner for the Aylesbury regeneration earlier this year.
NHH's team includes Barratt London as developer partner and a panel of architects led by HTA Design LLP and including Hawkins Brown and Mae Architects.