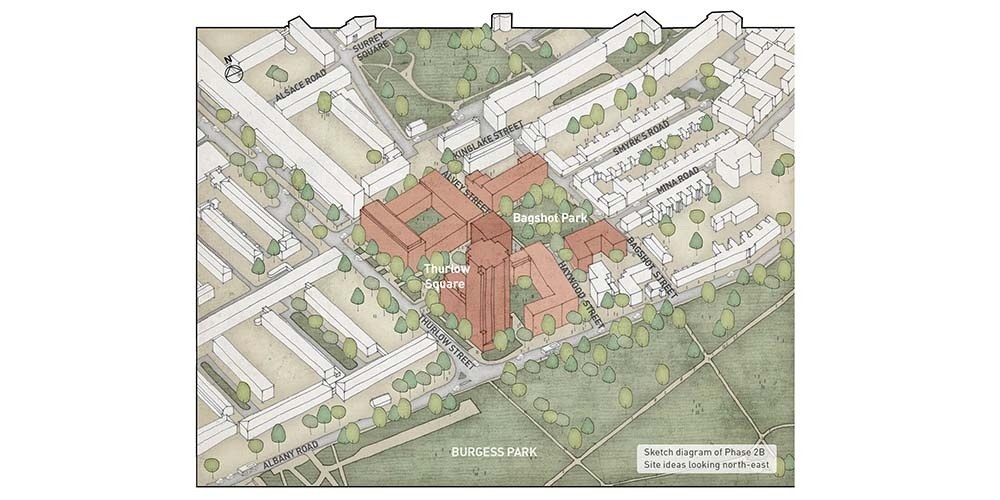 ---
Plans are being developed for the regeneration of Phase 2B of the Aylesbury Estate, the area that includes the Wendover 241-471, Winslow, Padbury and Ravenstone blocks.
Following ongoing consultation and planning policy changes since 2016, and especially what you told us during our consultation this summer, we've revised our proposals for the site. We'd now like to invite local residents, businesses and stakeholders back to see what revisions have been made, and to comment further.
Please join Notting Hill Genesis, Soundings and the design team at one of our public events, exhibitions or workshops being held this autumn.
It's an opportunity to view the latest plans for the site, which include:
• 600+ new homes
• 50% affordable homes
• A mix of generously sized flats and maisonettes
• Two new public parks
• Commercial space
• Play space for all ages
• Sustainable buildings
• Tree-lined streets and attractive green spaces
We look forward to seeing you!
Drop in Public open day
Saturday 16 October 2021, 12noon - 3pm
Surrey Square Primary School Surrey Square, London SE17 2JY
Drop in any time to meet the team, view updated designs in a family-friendly environment and give your feedback on plans for Phase 2B of the estate regeneration. Members of the design team, Notting Hill Genesis and Soundings will be on hand to listen to your feedback and answer your questions. This event is free and open to all.
Drop in exhibition
Monday 18 October 2021, 4-6pm
Upper Hall, Pembroke House, 80 Tatum Street, London SE17 1QR
Drop in to view the plans between 4-6pm.
Stakeholder evening workshop*
Monday 18 October 2021, 6-8pm
Upper Hall, Pembroke House, 80 Tatum Street, London SE17 1QR
An early evening workshop will discuss public space, access and circulation.
Online public workshop*
Tuesday 26 October 2021, 6-7.30pm
An online evening to discuss the revised plans.
Resident workshops*
Early November
We'll also be running some bespoke new homes workshops for residents later in the autumn. Get in touch if you would be interested in taking part.
* Registration is required for the events marked with a *. To sign up, please email aylesbury@nhg.org.uk or call 07920 466133.