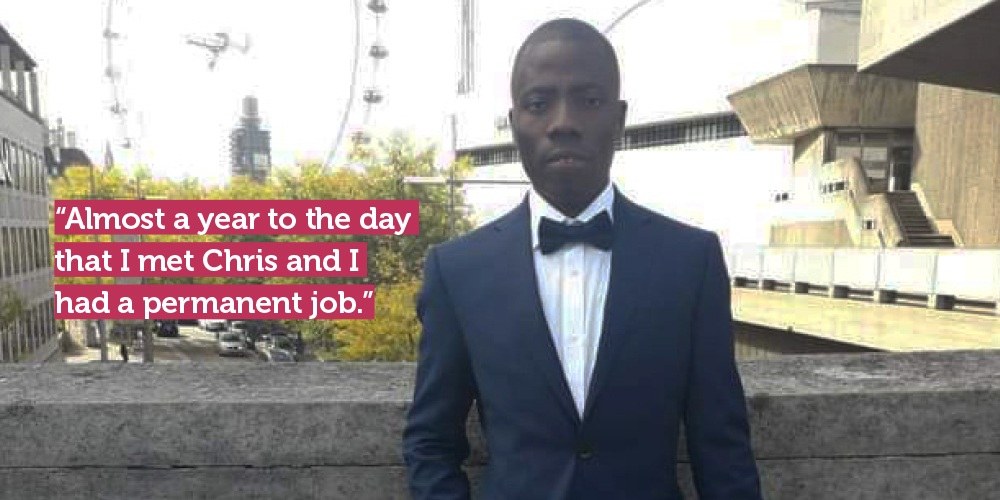 ---
Meet Omobolaji, an Aylesbury resident who through hard work, determination and support from the Notting Hill Genesis team has achieved his career goals and continues to aim high.
Omobolaji completed his degree in electrical and electronic engineering in 2014. Although he had found a job in retail, he was struggling to find work relevant to his degree. It was around this time that Omobolaji met Chris, Programme Manager for Young People at Notting Hill Genesis. Chris says: "I could see straight away that Omobolaji had the drive and ambition to build his career in engineering but just needed a bit of support and access to more opportunities."
The first step was to gain confidence in applying for jobs. Omobolaji says: "I was coming to the office every week to work on my CV and do practice interviews with Chris. The pressure was high because I was working at the same time. I had my degree but it was still hard to get an engineering job so Chris recommended I applied for an industry qualification."
Notting Hill Genesis provided Omobolaji with a bursary which funded the cost of this qualification. Omobolaji continues: "Once I had completed that and was able to add it to my CV, things really changed – the additional qualification enabled me to get some industrial experience."
After several months building up his skillset and experience through various short-term contracts, Omobolaji got a place on a pre-employment course run by Transport for London. Part of the course involved presenting to several companies. One technology company in attendance was so impressed that they offered Omobolaji a one-week placement and before the week was out, he had been offered an interview for a full-time position.
Omobolaji says: "At this point I was really struggling to find a job so all the practice interviews with Chris really helped me. The interview went well, and they took me on as a trainee maintenance engineer. Almost a year to the day that I met Chris and I had a permanent job. I was very happy and excited. Salary-wise, it was a massive leap to get a permanent job as an engineer."
In order to progress further in his career, Omobolaji then decided to do a master's degree in engineering management. Looking back at the experience, he says: "I found it hard because of working nights, having a family and concentrating on studies but I was able to organise myself and came out with a distinction."
Omobolaji's master's degree has since helped him move from strength to strength. He subsequently got a team leader position and has recently got a new job as an engineer working more sociable hours!
Despite having a very busy work and home life, community is also important to Omobolaji and he has been actively involved in resident opportunities around the regeneration. "I like hearing about the regeneration and taking part in the process. I think it's important to give back to your community," he explains.
Talking about his experience working with Chris, Omobolaji says: "The reason I trusted Chris was because he devoted a lot of time to me; he was always there to help me when I contacted him. I would recommend working with Notting Hill Genesis; I've really enjoyed the support."
Chris says: "I've known Omobolaji for seven years now and it's been a pleasure to mentor him and watch him grow in both his professional and personal life. I always felt confident that Omobolaji would achieve his dreams and I feel privileged to have had the opportunity to work with him."