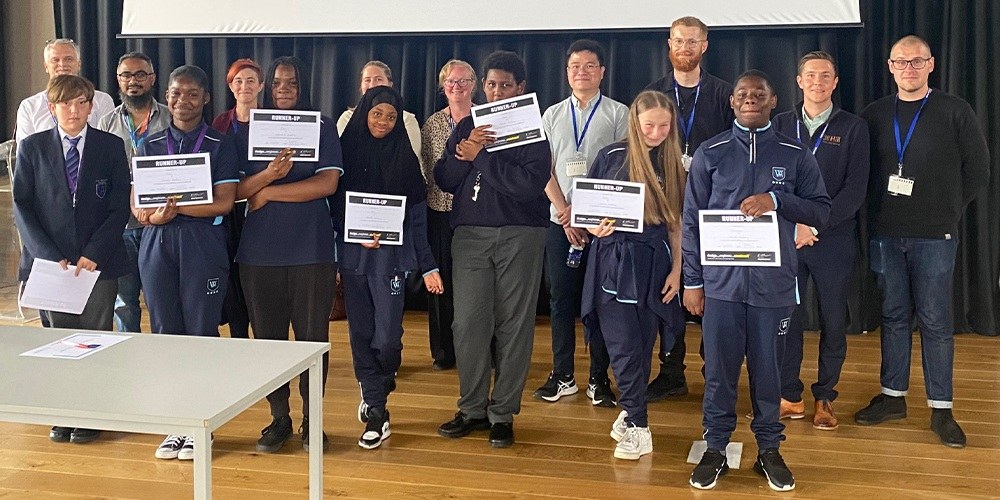 ---
We've been working with our construction consultants and contractors, and a company called Class Of Your Own, to introduce school students at Walworth Academy to the world of construction.
The project kicked off with a careers workshop for students at Walworth Academy. 183 young people attended presentations from professionals across the built environment sector. Here they heard about a range of career options, including architecture, civil engineering, project management and construction, and had the opportunity to ask questions.
Following on from this introduction, 549 students from across years 7, 8 and 9 took part in all-day workshops where they designed a (fictitious) visitor centre for Burgess Park.
The students worked in groups to decide what facilities their visitor centre would include, what their building would be made from, how it would be laid out and what they would do to protect the local environment.
More than 30 volunteers from Maccreanor Lavington, East, Arcadis, Hill, Vistry, JS Wright, International Fire Consultants, RPS Group and Notting Hill Genesis were on hand to help the students, answering questions and stimulating discussion.
Each group then presented their ideas to the class. The volunteers turned into judges to decide who had come up with the best design. The winning teams from each year group will get the opportunity to work with Notting Hill Genesis by feeding into the design of a new open space.
Matt Simmons, of Class Of Your Own, said: "We are delighted to work with Notting Hill Genesis and their project team. This partnership enabled the team to deliver over 200 hours of volunteering time at Walworth Academy. Walworth students have taken part in real-world learning projects and received careers guidance which we hope will inspire the next generation of built environment professionals. This level of engagement is unprecedented and a testament to the commitment of the team to working with the local community."
Meghan Doyle, Head of Social and Economic Investment at Notting Hill Genesis, added: "It is important to us that the work we are doing on the Aylesbury regeneration brings benefits to the local community. I am pleased that this project enabled students at Walworth Academy to speak with experts in the construction sector, as well as learning about and being inspired by possible career paths that they may not have previously considered."