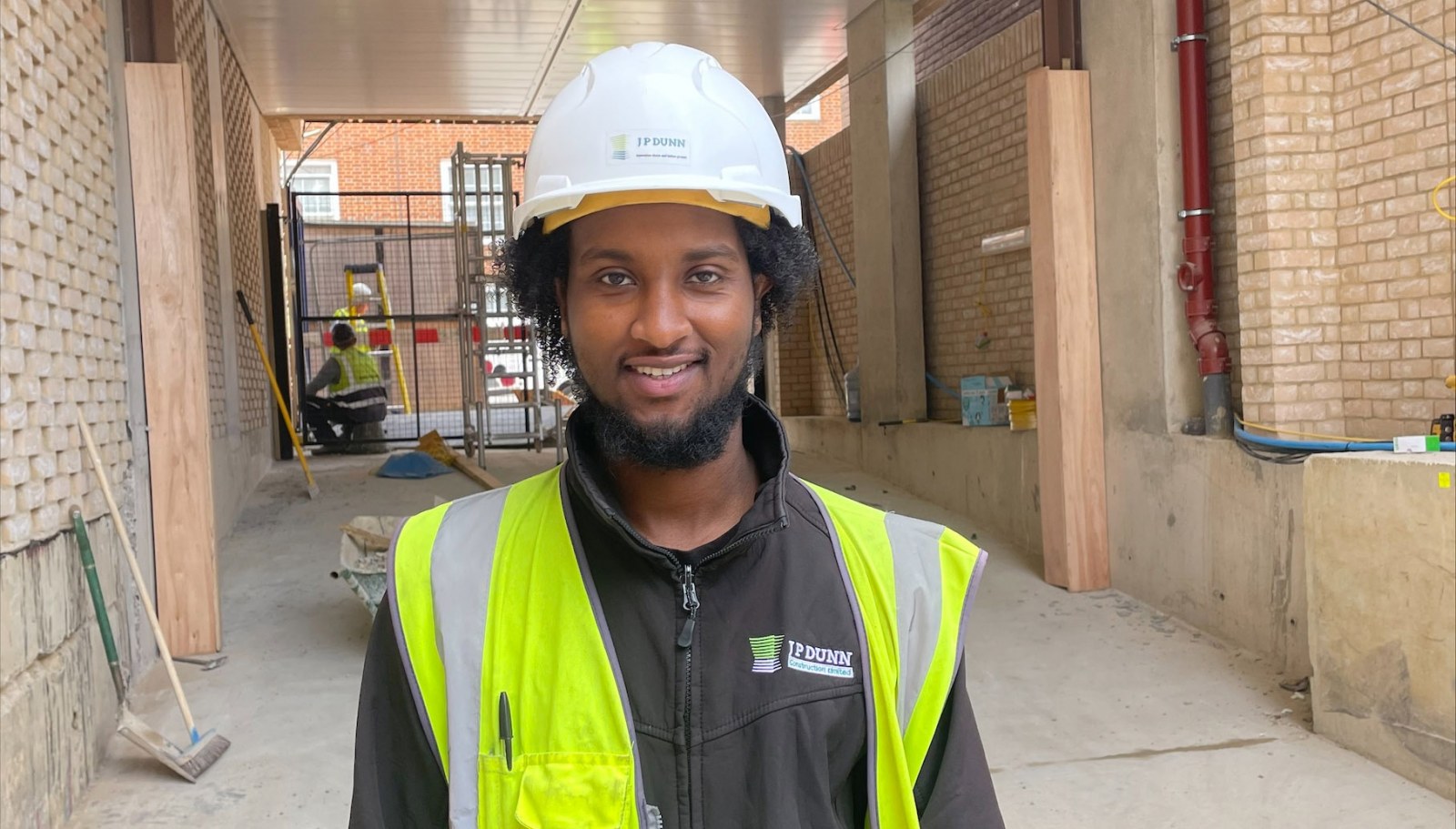 ---
Abdul has lived in the Aylesbury community for over eight years and qualified with a degree in civil engineering shortly before the Covid-19 pandemic.
He knew he wanted to get into a career in construction and had already got a job as a traffic marshal on a construction site. However he wanted a job that would use the skills he'd developed through his degree and many of these jobs required significant experience on a construction site.
It was then that Abdul received a flyer from Notting Hill Genesis giving information about support available to Aylesbury residents, including help getting into employment.
Growing up on the Aylesbury Estate, Abdul was aware of the regeneration and was keen to make the most of any local opportunities that might be available. Abdul explains, "I wanted to be part of the regeneration rather than looking elsewhere."
Abdul spoke to Notting Hill Genesis' youth programme manager about whether it would be possible to get work experience with Vistry, building contractors for Plot 18 on Thurlow Street. However, this was not straightforward. Due to the pandemic, restrictions were in place which made it difficult to allow additional people on site.
In the meantime, the programme manager helped Abdul to strengthen his CV and apply for other jobs. Abdul demonstrated his determination, keeping in regular contact and eventually Visty offered him six weeks of work experience: three doing site engineering and three doing site management.
Abdul set out to prove himself straight away, always on time for work, completing the work to a high quality and demonstrating that he is a quick learner.
As a result, he had job offers from both Vistry and their sub-contractor, J P Dunn, within five weeks. While it was a difficult decision for him, Abdul decided to go with J P Dunn as it would give him more hands-on experience. He acknowledges that the work experience was invaluable saying, "If I hadn't had the experience at Vistry I don't think I would have been able to get the job; it gave me the kick start that I needed in my career."
Abdul has now been a site engineer for over 12 months. While he is currently enjoying getting some experience under his belt, Abdul would ultimately like to become a project manager and is considering going back to university so he can get a qualification as a chartered civil engineer.
Abdul explains, "I wanted to share my story because I know lots of people are looking for jobs. I hope that reading this may motivate others in the community get involved in the regeneration and see the benefits for local people."